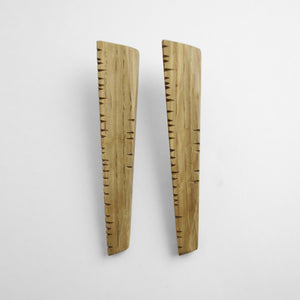 Bespoke Notched Man Pin
Regular price £50.00 Sale
Customisable with your own arrangement of notches. These can be used to signify dates of numbers. For example, the ones pictured have 27 notches on the left and 5 on the right for the 27th May.
Most hardwoods can be used for this type of design. The woods we have available are - 
Ash, Bubinga, Cherry, Ebony, Iroko, Lemon, Mahogany, Mango, Oak, Ovangkol, Padauk, Plum, Poplar, Purple Heart, Sonokoling, Rosewood, Sycamore, Walnut, Zebrano.
We can source woods for you if you have particular requirement, or we can use some wood of your own.
If you want to order a Man Pin like this then please contact us with your wood choice and date or number you'd like represented in notches. Prices start at £50 for one Man Pin, the final price will depend on if we need to source the wood and how many Man Pins you'd like.